PLASTIKEN
Sculptures
_____________________________________________________________________________________________________
Mich interessiert das Fragment.
Unregelmäßige, gebrochene Kanten, raue, Oberflächen und tief klaffende Risse,
die den Blick in das Innere frei geben zeugen von den Urkräften der Erde.
Fundstücke aus der Natur, geologische Prozesse und Strukturen
geben Anregungen zu meinen Objekten und Gefäßplastiken.
Vergänglichkeit und Verwandlung sind die Themen meiner Arbeit.
I´m interested in fragments.
Unregular, ruptured edges, rough surfaces, deep fissures and cracks speaking about primal forces of the earth.
I´m fascinated by geological processes like vulcanism, the flow of magma, surfaces created by natural processes of weathering.
Sculptures are influenced by pieces and fragments found in nature, especially stones and blocks of lava.
Change, transformation and transitoriness are the main themes in my work.
_____________________________________________________________________________________________________
GEODEN UND FRAGMENTE
Sie vergrößern die Bilder durch Anklicken
click images for larger view
_____________________________________________________________________________________________________
GEODEN UND FRAGMENTE
_____________________________________________________________________________________________________
FRAGMENTE
_____________________________________________________________________________________________________
GEODEN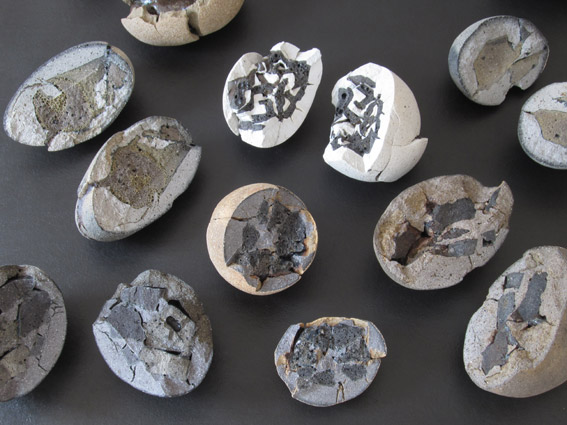 Weitere Bilder mit einem Klick auf das Foto Please click on the photo
_____________________________________________________________________________________________________